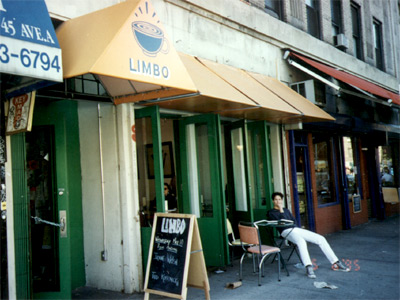 I've been taking pictures of cafes, restaurants, and bars in the East Village since 1995 with the intention of creating a web site that reviews ones that went out of business. Here is the first one of the series.
This picture was taken in May of 1995. Limbo had been already open for several years at this point. The chalkboard outside reads "Wednesday May 10 7PM Readings Irvine Welsh." I suppose this is before he became world-famous for the movie "Trainspotting." When Limbo first opened on Avenue A between 3rd and 4th Street, there wasn't much in the neighborhood. Now there are abundance of arty cafes in the East Village, but in the early 90?s Limbo was one of the few. In fact, it set the atmosphere of the block for the businesses that followed it. Now we have Bagel Zone, Cafe des Moines, and Cafe Lalita. We also had Nation which was unfortunately short-lived.
When Limbo first opened, it offered an unusual atmosphere of stay-as-long-as-you-want. It had a variety of board games, magazines, and comfortable chairs and couches. It also functioned as a gallery showing works of art that were surprisingly good. At night, there were live music or readings. The front of the cafe was wide open during spring and fall. The inside was spacious and full of light. I used to take a week vacation from my job just to hang out there every morning. After a year or so of opening, it caught on. I could no longer find any empty seat, which marked the end of my visits to Limbo. When it finally closed, I felt like we were losing an important landmark of the East Village. For me, Limbo symbolized what the East Village is, or should be.